Shopping
Hudson's unique blend of independent shops and high end retail are what give our town its charming style and provide visitors with a fun, relaxing experience.
Plus, when people shop locally-owned stores, it's better for the economy & environment, too.

#ShopLocalShopHudson
ART & FRAMING
Hudson Fine Art & Framing
160 N. Main St | 330-650-2800
If you're looking for custom framing, beautiful art, or a unique gift, we're the destination for you. New location on Main Street across from the Clocktower.
Uncommon Art
134 N. Main St.
Artists Dana Giel-Ray, Karen Koch, and Shannon Casey have joined forces in Uncommon Art, a combination of art studios, micro gallery and classroom.
(*See also: Discovering Art in Hudson)
BOOKS
The Learned Owl Book Shop
204 N. Main St. | 330-653-2252 / 800-968-2685
An independent community bookstore established in 1968 offering three floors of books, greeting cards, stationery & gifts for all ages and interests. Free gift-wrap with purchase.
CLOTHING
Chico's
92 First Street | 330 653-5072
Great style, one-of-a-kind details, and warm, personal service.
Favorite Sister
150 North Main Street |
Like shopping with your favorite sister, someone who supports you and looks out for you. .
Francesca's
96 First Street #320 | 330 653-5179
A treasure chest overflowing with gifts, apparel, home accessories, and jewelry.
J. Jill
112 First Street | 234 602-2049
Perfectly proportioned, versatile clothing for women sizes 2-28.
Jabbour's Clothiers
5831 Darrow Rd | 330) 650-1254
Fashions for the discriminating man.
Jos. A. Bank Clothiers
87 First St. | 330-528-0026
The Expert in Men's Apparel
LOFT
81 First St. | 330-463-5605
Mainstream Boutique
93 First St. |
On a mission to love, strengthen and celebrate women through fashion.
Riley's Clothiers & Cleaners
100 N. Main St. | 330-656-3343
Classic expressions in quality fashion for men and women
Talbot's
82 First St. | 330-653-3704
Tradition and imagination blended to inspire a modern take on timeless style
White House Black Market
45 Village Way | 330-653-5053
Our clothing is a symbol of who we are: the honest simplicity of black and white, and the remarkable individuality of the different styles we create from it.
Winds of Change
190 North Main Street | 330-653-8033
Eclectic fashions you'll love.
CYCLES & SPORTS
All Around Cyclery
46 Ravenna (Evaporator Works)/ 330 653-8299
Several lines of bicycles for the entire family. Industry veteran & owner Brent Forrer will offer service!
Vertical Runner
112 N. Main St | (330) 656-1176
Northeast Ohio's premier running shoe store.
FABRICS & CRAFT SUPPLIES

JoAnn Fabrics
5381 Darrow | 330-650-6228
A flagship store in the JoAnn family. See the excellent selection of fabrics & craft supplies, or call ahead and book a class.
FLOWERS
Hudson Plant Company
68 Ravenna Street, D-4 (Inside HOUSE) | hudsonplantco@gmail.com
Plants and succulents, as well as workshops inside this space or at home.
The Greenhouse Fresh Flower Market
12 Clinton St. | 330-656-3676 | 800-795-1366
Honored as the Akron area's premier florist and awarded Master Florist by FTD. Serving Hudson for over 40 years.
The Red Twig
5202 Darrow Road | 330 842-1849
Event Planning, Floral Design and Art Gallery
FOR THE GARDEN
Robinson Lawn & Garden Center
7936 Ravenna Rd. (Olde 14) | 330-650-4459/330-656-2777
Complete landscaping services and garden center.
FOR THE HOME/GIFTS
A/R Workshop Hudson
116 W Streetsboro, Ste 3. | (234) 602-1015
Sign up for a project today or call and take one home!
Callahan's Carpet One Floor & Home
5847 Darrow Road | (330) 342-0101
A locally-owned, full service flooring store with hardwood, luxury vinyl tile, ceramic tile, carpet, & area rugs.
Feather+Elm
219 N. Main St. | (330) 650-1101
A curated home goods shoppe with a concern for our people and our planet.
HOUSE
46 Ravenna Street (Evaporator Works) / (234) 284-8005
Come shop our HOUSE vintage items, found delights, and gifts.
Hudson Oriental Rugs
178 North Main | 330 653-9028
Rug cleaning, repair, and sales in the heart of historic Hudson.
Karen's Hallmark
116 W Streetsboro, st2 | 330 655-0020
Gifts, gift wraps, and cards. Make every occasion special with Hallmark.
MOD Matter of Design
95 First St. | 330-650-0004
Live in Style. Love your space. Custom made Norwalk Furniture. Vintage industrial pieces. Accessories, lighting, rugs, art. Full service design.
Mimi's Treasure Cottage
138 N. Main St. |234 251-4179
Hours by appointment and during pop-up sales. Mimi's has items from local estate sales, flea markets, thrift stores, antique stores and garage sales.
Ohio Organics And Nature
30 Ravenna Street | 216 218-1141
This quaint shop offers Hudson and Ohio collectibles, organic clothing for children, and healthy gluten-free and vegan grocer choices.
Orange Rose Apothecary
51 South Main |
Neighborhood goods made with love.
rmd Designs
46 Ravenna St, C3 | 330 342-0403
Be part of the experience.
The Rusty Stone
46 Ravenna Street (with HOUSE) / (234) 284-8005
The Rusty Stone is a charming little artisans store specializing in producing stone products and gifts for all occasions.
Smiths Curated
48 Clinton Street / (234) 269-6700
Hand-selected furnishings and decor for the distinct home.
Standing Rock Gallery
5194 Darrow Rd | 330) 650-9089
Glass, pottery, art pieces, or jewelry, all wonderfully wrapped for gift-giving.
Vignettes
140 North Main St. | 330 342-7017
A charming store filled with unique gifts, cards, and home accessories.
GROCERIES, PHARMACIES, DRUG STORES & FOOD RELATED STORES
Acme Hudson
116 W. Streetsboro Rd. | 330-650-0465
Feeding the families of our community for over 100 years
Awaken Bake Company (Great Lakes Bakery)
85 South Main | 330-342-5878
Chocolates of Hudson (aka Hershey's)
50 W. Streetsboro St. | 330-342-1232
We are your home for great tasting ice cream and top-shelf chocolates
CVS Drug Store
5783 Darrow Road | 330-650-0605
Discount Drug Mart
5863 Darrow Rd. | 330-342-5500
Heather's Heat & Flavor
94 First St | 330-653-5131
Always a treat. Gourmet foods, freshest spices & unique gifts. That's what Heather's is all about.
Hershey's of Hudson (aka Chocolates of Hudson)
50 W. Streetsboro St. | 330-342-1232
We are your home for great tasting ice cream and top-shelf chocolates
Heinen's
19 Clinton St. | 330-655-5255
Fine foods, fine sources, fine people, since 1929
Metropolis Popcorn
72 N. Main Street | 330-342-0300
Over 50 premium flavors of fresh popped gourmet popcorn, fresh baked brownies, old fashioned candy and more!
Olive My Heart
5108 Darrow Road
Olive oils, vinegars, spices
HARDWARE & PAINT

Hudson Ace Hardware
5824 Darrow Rd. | 330-650-4475
The helpful place.
Sherwin Williams
5860 Darrow Rd. | (330) 528-0124
Paints, stains, and supplies.
JEWELRY & ACCESSORIES
Cambridge Jewelers
76 Maple Drive | 330-655-5977/800-827-6873
Home to some of the finest and rarest gemstones, as well as on-site custom manufacturing capabilities.
Gracylane
41 Village Way | 330-650-0370
A unique, one-stop destination for your favorite gifts and women's accessories; featuring top brands Vera Bradley, Brighton, Alex and Ani, Waxing Poetic, Sid Dickens, Nora Fleming, Gurgle Pot and more. Perfect for all occasions!

Jewelry Art
116 N Main St. | 330-650-9011
Family owned. Born over 30 years ago from a love of individual design and impeccable craftsmanship
Timothy Michael Jewelry
180 West Streetsboro/330 650-1003
MUSIC
Western Reserve Music
144 N Main St. | 330 342-7317
Instruments, rentals, and lessons right downtown.
What's Happening in Hudson
---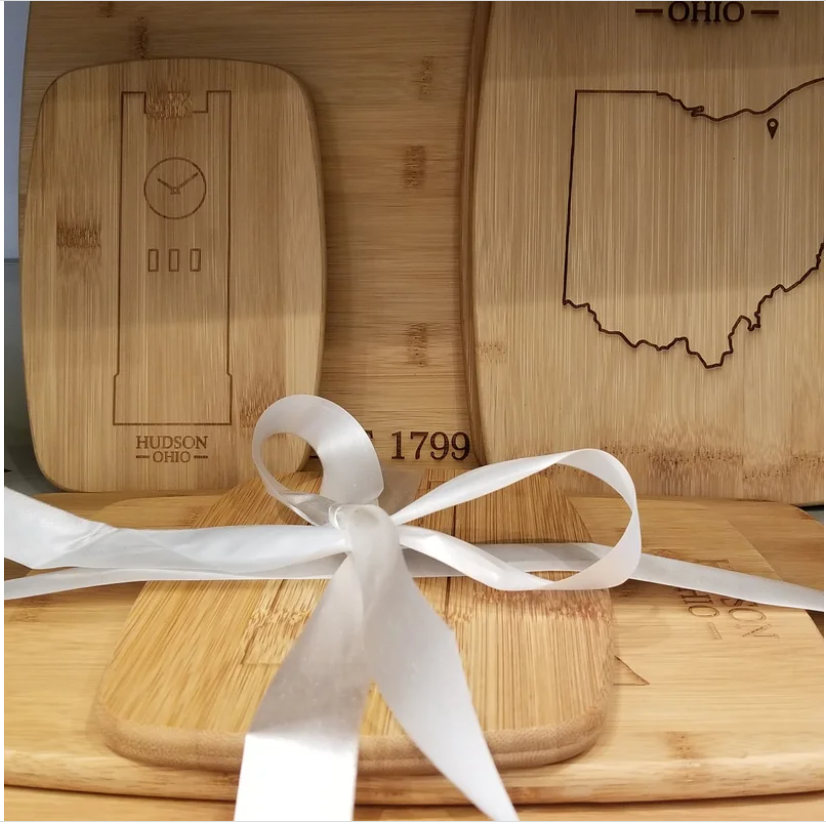 Cutting Boards and tea towels
Find this and many other wonderful Hudson, Ohio related items in our visitor's center or…